ChoiceMortgages UK
Client Description

Independent Mortgage and Insurance Advisors based in Stamford.

Sector

Financial

Goal

Website Design and Social Media Campaign

Service(s)

Social Media
Web Design
Web Development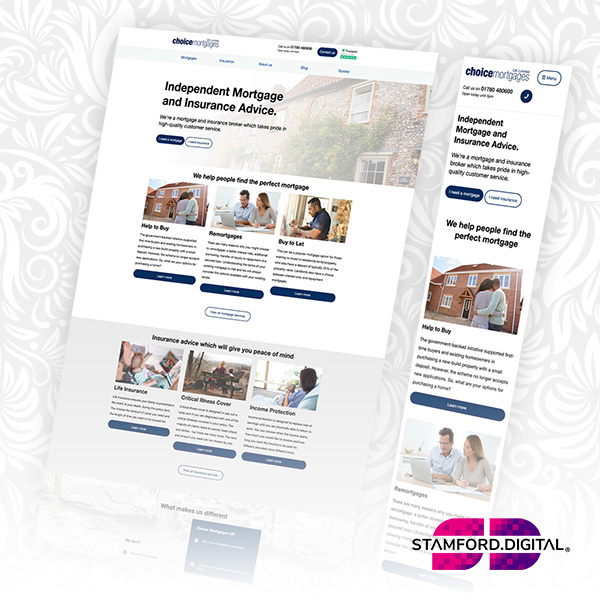 Background
The ChoiceMortgage UK team previously had limited success with their digital marketing. We were referred and recommended to the team to offer new perspectives and ideas.
After a review, we identified their existing website had quite a few pain points, however, these were these three stood out:
It didn't generate many leads
The site design lacked trust and authority
It wasn't mobile-friendly
We put together a proposal to redesign their website. Our proposal also included a six-month social media campaign.
Our Approach
We completely overhauled the website – starting with the site structure.
To help boost organic SEO, we were keen to give their website a landing page for each of their key mortgage and insurance services.
We wanted the website to start building trust and authority with visitors as soon as the page loaded.
Before jumping into the design or code, we presented the layout (wireframe) to the team and walked them through the decisions behind the layout and website structure.
This gave the ChoiceMortgages UK team the opportunity to provide feedback, before moving forward with the design and development.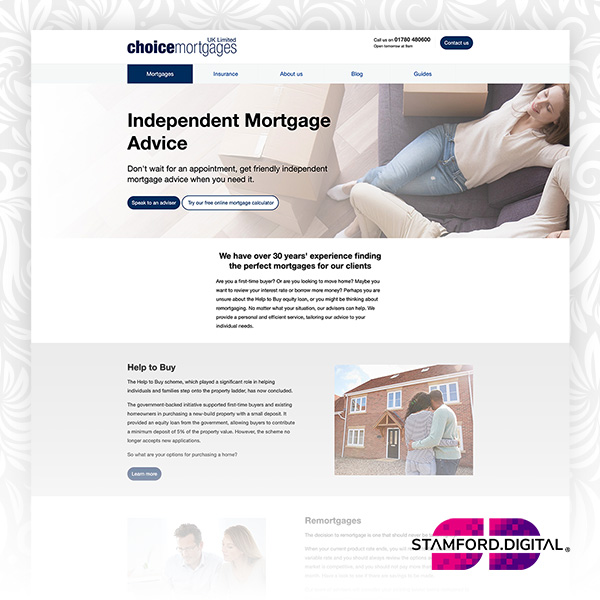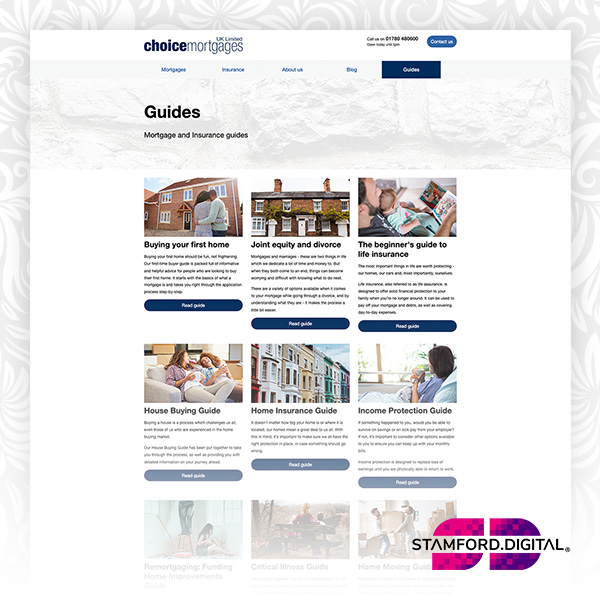 We opted for a crisp, clean and professional website design.
We combined this style of design with lifestyle photography throughout the site to help tell a story and guide the user.
Primary CTAs (call-to-action) were given the dark blue colour.
We used this colour sparingly, to ensure that the buttons stood out and signposted the action that we wanted the user to take.
Regularly adding and updating content is key to a successful website. We recommended that the website include a blog and a guide section, to help the team communicate and share their advice and expertise.
We gave the team the ability to easily control these sections of the website, using the popular WordPress CMS.
The Results
We had some amazing success with this website redesign.
We doubled the number of enquiries ChoiceMortgages UK received compared to the previous year.
The team were also starting to receive enquiries from further afield, based on the strength of their new website.
The social media campaign was also successful. We grew the business's social media audience significantly (particularly on Facebook).

Having been impressed with the results, they renewed their social media contract.