Advent history – how it's evolved and crept onto social media
Now the Christmas countdown is almost over, let's take a look at the rise of the online advent calendar.
This new-age version of a very old tradition is becoming increasingly popular on Instagram. Whilst the original advent calendars, which started as a tradition in Germany over 200 years ago, usually contained a religious image and sometimes a bar of chocolate too – the modern-day versions are very different. And far more luxurious. The majority of advent calendars still contain chocolate, but if you are willing to pay a little more you can pick one up which is filled with toys, beauty gifts, gin or why not splash out on a £104,000 Tiffany & Co diamond one?
Christmas campaigns are always exciting. All-year preparation goes into creating something fun and engaging throughout the build-up, helping customers get involved. This festive season a new trend seems to be sweeping the Instagram grid, taking the form of an Instagram advent calendar. Brands and influencers, both big and small, are offering their customers the opportunity to win a selection of presents on each day of advent. It's a trend which not only reminds us how many days are left until Christmas but also draws in masses of engagement and new followers.
Whilst having the opportunity to enter multiple giveaways throughout December is exciting as a customer, unless you're a large corporation it can be a strain to be able to give products away for free. You can control the spending throughout your festive campaign, as well as decide whether you wish to grow your giveaway organically or through paid advertisement. Giveaways can hold endless options for prizes, such as discount codes, free delivery for a year and free gifts added to your next shop. All of which will entice people to shop with your company, making it a win-win situation for all.
Why Instagram?
With reports claiming that Instagram has an engagement rate 58 times higher than Facebook and 120 times more than Twitter, it's no surprise that it has been one of the fastest-growing social platforms over the past few years. And with the aesthetically pleasing layout, it has become an ideal place for an advent calendar. Each Instagram account has its own feed which is laid out in a grid-style format, creating the perfect advent calendar image.
The brands which hold the advent calendar giveaways have leverage on how they wish their followers to enter the competition, with many opting to go for a 'like, share and tag a friend' requirement for the entry. By doing so, it offers greater exposure and impressions. This is because their followers sharing the posts are reaching an audience which may not have held an interest in this particular brand previously. Therefore, this is a big opportunity to gain new followers too. As the Instagram advent calendar giveaways are posted daily, there is an urgency for followers to enter within the day before it closes. Many followers will look out for the post so they can get their entry in.
One of the keys to a successful Instagram account is how you use your hashtags, a feature which we will shout about from the rooftops. Hashtags are a key marketing tool across Instagram. By strategically placing them throughout your posts, you can gain a new audience who are tracking a certain topic or theme. Many brands have created their own hashtags throughout their advent giveaways, enabling them to track and see who has entered each day.
Something for everyone…
One brand's account which has reaped the benefits of an online advent calendar is Kwik Fit, a car servicing and repair company in the UK. Whilst a car repair company giveaway might not be one that would attract the most, the company adapted its giveaway to tempt the masses by giving away smartwatches, tablets and even Nando's vouchers. Before December 2019, Kwik Fit was receiving around 30 to 80 likes on average per post on its Instagram account. But since the launch of its Christmas advent calendar, each post receives around 1,000 likes on average – that's a whopping 3000% uplift in engagement. As well as gaining over 2,000 followers throughout December (source Social Blade), Kwik Fit's engagement rate is sitting at 17.82% – which is 13% higher than the average account.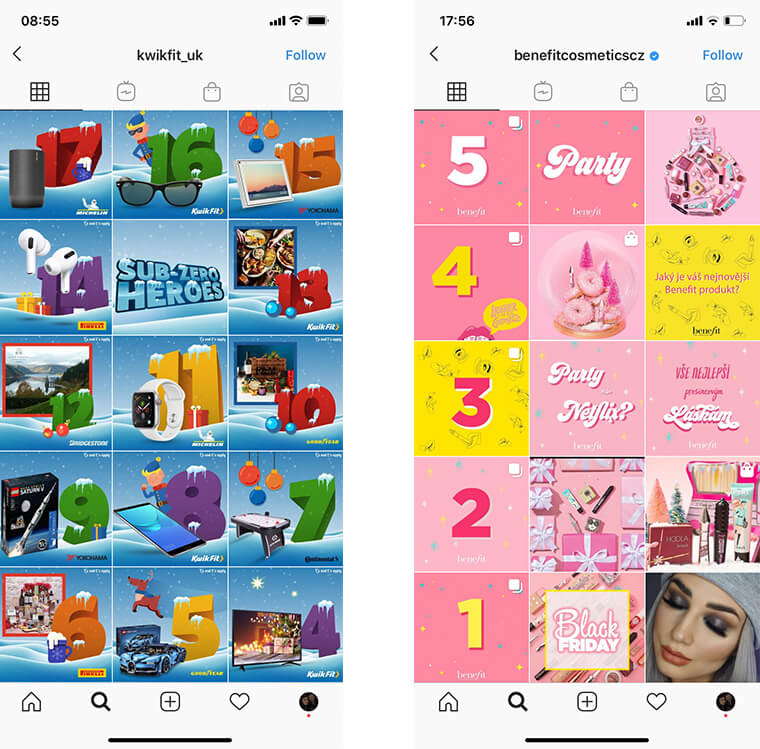 Popular beauty brand Benefit Cosmetics has also created an advent calendar, enabling its followers the chance to win a selection of products throughout December. Benefit has laid its calendar out in a creative way by having the daily advent posts in a vertical order throughout its grid. This enables the brand to be able to post content not only for advent – but also keep followers up to the date with product launches, brand information and customer posts. Creating posts other than for advent keeps target audiences who are not interested in Christmas giveaways engaged, as well as catering for those who follow the giveaway regularly.
The Christmas Comedown
Now the giveaways are drawing to a close, it can become a worry that the engagement rates will decrease. Followers may also be lost, but by using the data obtained throughout the giveaway in your favour you're able to learn more about your new audience. On an Instagram business account, you have access to the analytical data collected throughout the month, which contains figures from where your most loyal followers are from and your most engaged age range.
If you missed this year's advent calendar train, plan ahead ready for Christmas 2020. It may seem premature to plan ahead before this Christmas is even over, but it will ensure you're organised and can put the most into your giveaways. There are no rules which state you can only do giveaways throughout Christmas either, you are able to hold them whenever you want to.