A memorable phrase that is associated with your brand is key here. In essence, this is what a slogan is designed to deliver. This means when you hear the words you immediately think of the company and what they offer.
Rather than simply write all about slogans, let's see some in action. And why not start with a well-known slogan…

This immediately makes you think of John Lewis. The message is about being competitively priced. They sell a wide range of products but with such a universal slogan you feel confident they offer good value, which ultimately translates into why bother shopping around.
On their website, they are keen to reassure and qualify this statement. These are the questions their customers would ask, so they make a point of addressing them.

There are words or phrases that can appear alongside your company logo. When this happens, it's usually called a tagline. This is shorter than a slogan and more about word association.
The John Lewis logo makes a connection with Partners.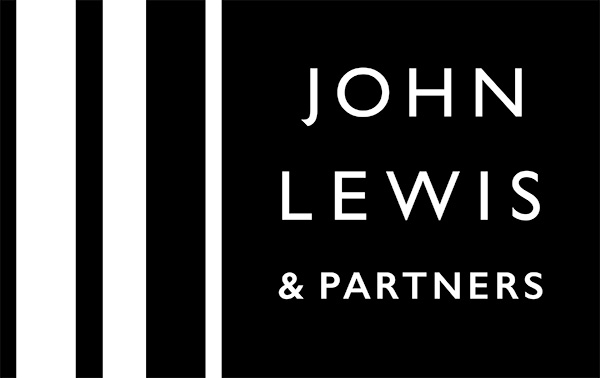 All their staff own a share in the business. It makes the whole proposition more personal. You know when you're dealing with their staff they have a vested interest in delivering a great service.
The addition of a heart in their logo is a change ahead of their Christmas 2020 marketing campaign. They have announced a series of charity partnerships too. And in many ways, the visual representation speaks louder than the words.
These are several techniques demonstrated by John Lewis. But ultimately, you decide how you want to use slogans and taglines as part of your overall branding.
How do you write a slogan?
Your goal when writing a slogan is to ensure customers quickly understand what you're offering. It's not simply about creating a clever phrase with little meaning, but more of a reflection on what you do.
A slogan should capture the attention of your audience. It's important to focus on what makes you stand out from the crowd and answer the 'so what' from customers.
But it also needs to flow. A general rule is the shorter the better. You should choose your words carefully so each one contributes to the overall phrase and makes an impact.
Let's look at some examples:
In the 1980s there was a television commercial for Shake n' Vac, a carpet cleaning product from Glade. The slogan they used was 'Do the Shake n' Vac and put the freshness back'. It was very melodic and incorporated into a song.
The product itself told you what you needed to do. The slogan delivered the benefit by telling customers what happens when they use this product. At the time, you either loved it or hated it – but it was undeniably memorable.
The combination of description and emotion is quite powerful. Mastercard has a tagline 'Priceless'. The most famous slogan they used to bring the brand to life was 'There are some things money can't buy, for everything else, there's Mastercard'.
They developed a series of campaigns over several years using the 'Priceless' tagline and this slogan.
Working on an emotional level relates to everyday activities and experiences. Positioned as something money can't buy. The reality is you need to buy things which is something Mastercard understands, which is why they are there for you.
Relating your slogan to your brand
You know you've created a successful slogan when you hear it then immediately know which brand it relates to and what they do. That is your goal in a nutshell. Your slogan becomes an asset you can use across your marketing activity.
Here are a few examples of slogans you may recognise and what they say about the brand:
I'm lovin' it
This is sometimes used with the logo and often repeated in their adverts. What it is saying is you will just love McDonald's food and the experience. They are telling you how you will feel. Their latest campaign is a series of free events and activities called 'I'm lovin' it live'.
You either love it or you hate it
This was a very risky slogan because of the negative phrasing but Marmite embraced it. Clever in the way it's almost presented as a challenge, only to be taken on by the brave and generate a sense of curiosity. People talk about something being like Marmite which means you are in a 'love it or hate it' situation.
Does exactly what it says on the tin
Another brand strapline that is used to describe 'doing what you say you're going to do'. Ronseal developed this back in 1994. They had a range of products and what they all had in common was a tin. This was a simple way to tell customers we deliver quality products.
Final slogan tips
So where do you start with writing a slogan? A good tip is to write out the message you want to convey in full. Don't worry about word count or if it sounds right. Then edit, edit and edit again.
Play around with the words and see how many you can remove or replace. By doing this you will distil the message down to the core and create a powerful strapline for your brand.