While not everybody can see eye-to-eye on their political opinions, most of us can agree on having been influenced by social media in some way at some point.
In 2016, paid Facebook advertising played a massive part in both the United States presidential election and the UK's European Union membership referendum. The recent general election gave us the opportunity to pick a political party and observe how they used Facebook to get across their key election messages and pledges to the British public. We opted to take a look at the Conservative Party.
This post is not politically-motivated in any way. It's simply an analytical article that intends to share insights, as well as inspiring businesses to think about how they can start using digital advertising more effectively.
Facebook-Ad Library
Our analysis was carried out using the free Facebook Ad-Library tool. In the wake of the 2018 Cambridge Analytica scandal, Facebook released this tool as part of its efforts to become more transparent over privacy, data usage and the digital adverts which are placed on its platform. We used this tool to explore how the Tories were making use of Facebook as part of their campaign.
The tool provided us with insights about:
Facebook page changes
Total advert spend from Oct 2019 – Dec 2019
Individual advert statuses (active or inactive)
The spend that was placed on individual ads
The number of times individual ads were seen (impressions)
Demographic data on the audience which saw ads (e.g. age, gender, location)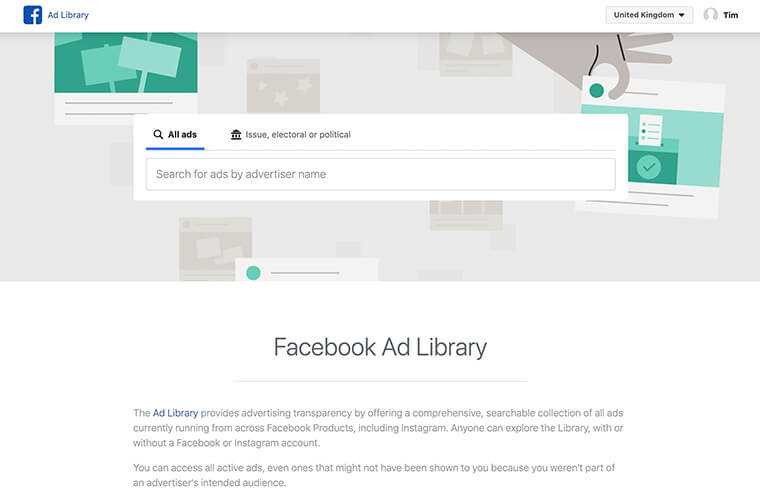 Facebook Page
The key focus of this general election was always going to be on Brexit. Throughout the campaign, the Conservatives used their Facebook page to push their key message of 'Get Brexit done'. You can see this reflected below with their choices of page copy and photography.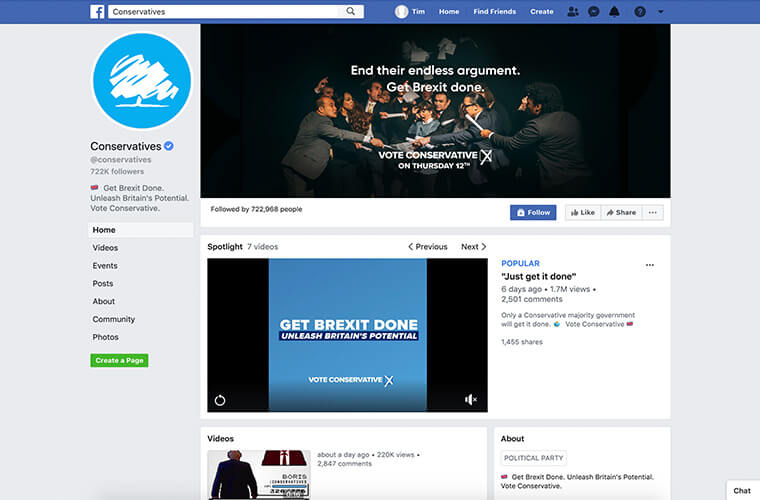 Multiple Ad Variations
From the announcement of the general election in late October up to polling day, it's been clear to see that the Conservative Party spent less on Facebook advertising than the Labour Party or Liberal Democrats. However, they've been able to churn out more adverts across Facebook than all other parties. The Tories' adverts have been focused mostly on informing people of their key election pledges – 'Get Brexit Done' – and their attack lines.
The examples below show how the Conservatives created many variations of the same advert. The copy within the post is always consistent, but the image changes very slightly. A multi-variate test is taking place here to see which image resonates more and has better user engagement. The campaign team would have been monitoring the progress of each of these variations and, in response, would have altered spending and target audience accordingly to maximise the impact of their advert.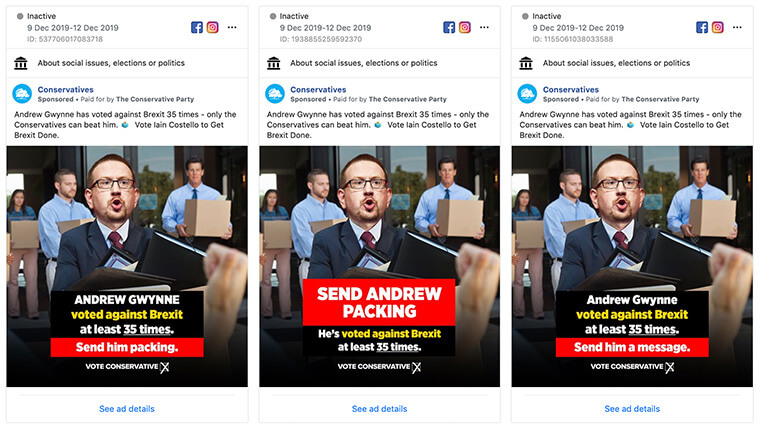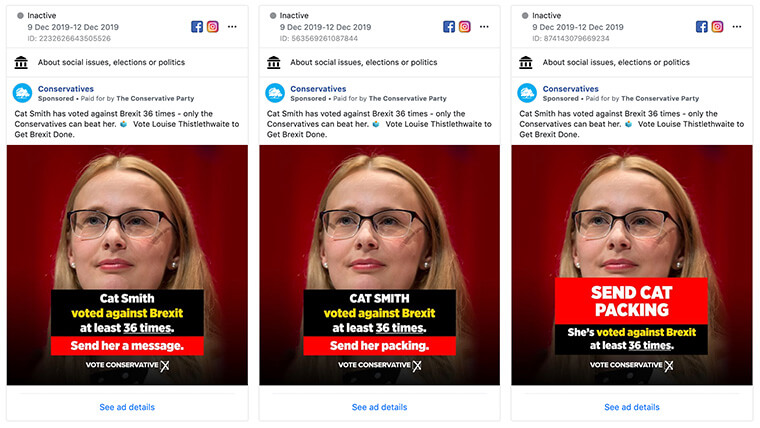 Targeting specific areas
The Conservative Party made their adverts for the election area-specific. The first round of adverts that began to circulate on Facebook after the announcement of the election were targeted and aimed at key marginal constituencies. Wrexham and Ashfield were two of these areas, as these were crucial to winning a parliamentary majority result.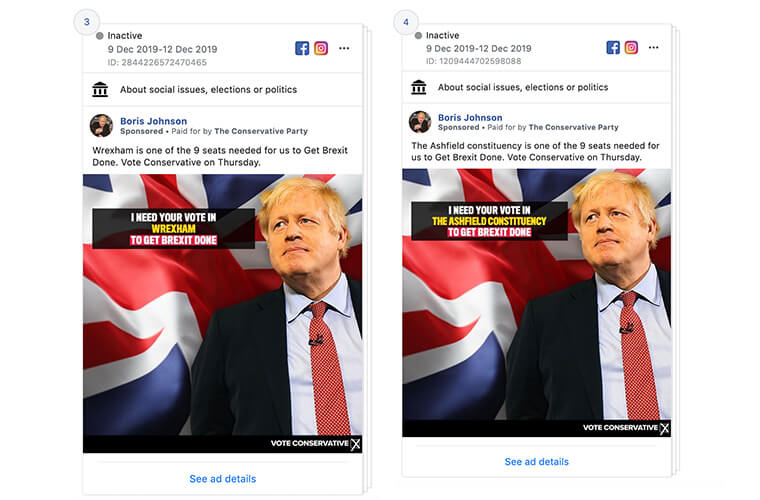 Making use of video
Hi folks…
As we got further into the election, the Conservative Party released a series of near-identical videos which targeted key constituencies across the country. One of the cities Boris Johnson reached out to was Peterborough. In the video the PM informs Facebook and Instagram users in Peterborough about how their area is one of the key seats that he needs for a majority in parliament, to help him get Brexit done.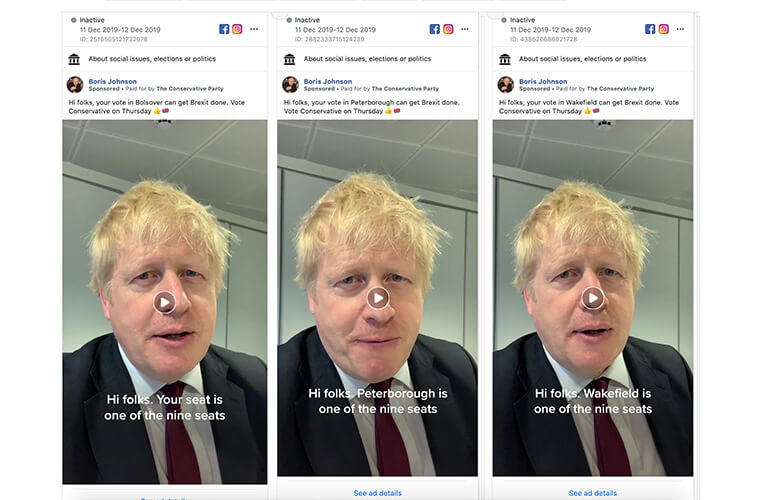 This very simple but cleverly edited video lasts for about 16 seconds, keeping it short and to the point for online consumers. Johnson mentions the target area at the beginning of the video, and again at the end, to reach out to a particular place on a personable level. In addition to this area-specific video, a non-specific version of the video was created to reach other constituencies across the country too.
The result is that the target audience of that constituency feels that Johnson has taken the time out of his busy campaign schedule to talk to them directly in an effort to win their vote. This slight personal touch helps the Tories form a connection with their target audience in that area. By personalising the message they increase the likelihood that the audience will react positively and carry out their main call to action (ie. vote Conservative).
The adverts focused on specific areas were low-cost, coming in at less than £100 per advert.
Seasonal Advertising
It's an unusal time of year for a general election – but the season did allow each party to be creative.
One of the latest entries into The Conservatives' Facebook advert collection saw their campaign leader Johnson take pointers from the iconic doorstep scene from the Christmas film Love Actually. Rather than expressing his love for a woman like in the movie, Johnson gives his all to convince her to vote for Tories this festive season instead. He highlights how her vote has never been more important and that a choice is to be made between a gridlocked hung parliament or a working majority.
Facebook Ad Library showed that the main party account shared three different versions of this advert, with each one targeting difference audiences. Again, the success of the advert would have been closely monitored and measured to help adapt campaigns for this election and beyond.
Love it or hate it, we think the choice of doing a parody of the well-known Christmas film Love Actually was quite clever. It showed a humorous side, with the ad becoming a talking point for friends and families who are sat together watching the film at this particular time of year.
Targeting a younger audience
One of the main target audiences for the 'Vote Conservative, Actually' advert was 18 to 24-year-olds. This was a demographic that the party had failed to capture the voting intention of for many years.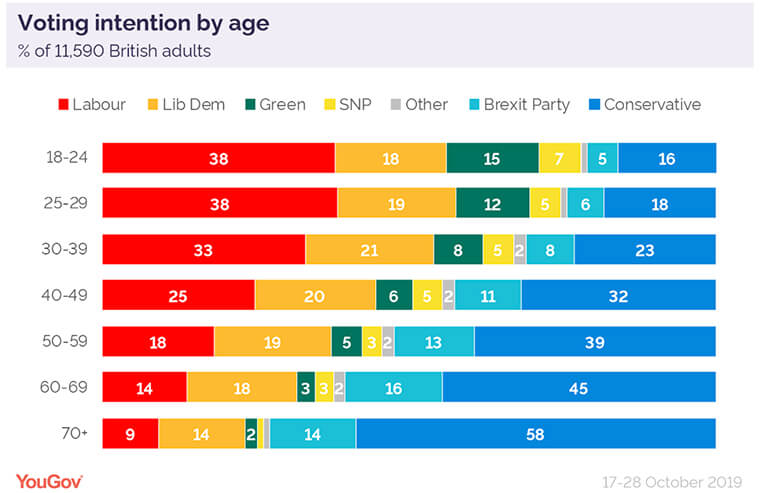 This is likely to have been used as one of the reasons for pushing more paid advertising targeted at the younger demographic, which Facebook Ad Library gives evidence of.
Sedgefield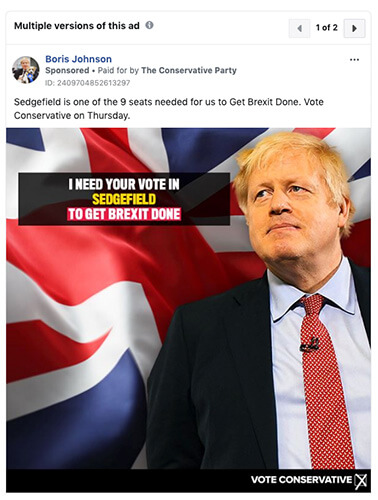 Sedgefield, Tony Blair's former constituency, was another seat which was lost to the Conservatives. We can see further evidence of both area-specific advertising and campaigns also targeted at a younger demographic.
The graphs below highlight the contrast in spending that was being applied to the younger audience as opposed to the older one. It would be interesting to know if the younger vote did play a key role in helping them secure the Sedgefield seat. The spending evidence on the Facebook Ad Library tool does seem to suggest that the Conservatives thought so.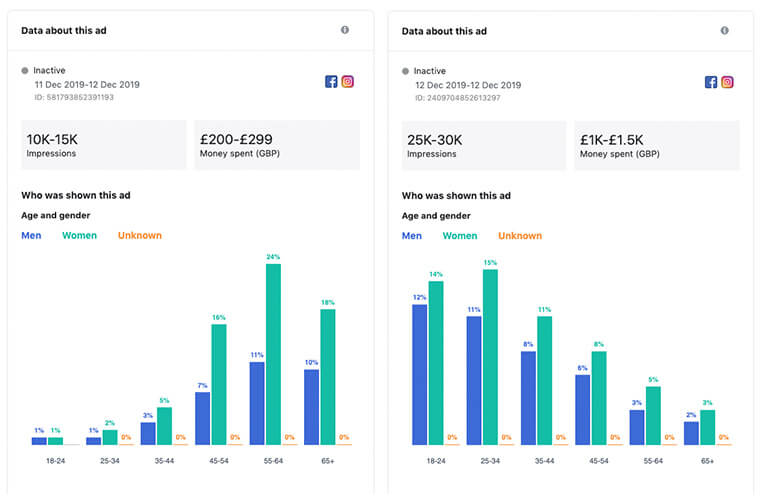 Autonomy
It also appears there was a certain level of autonomy granted to party candidates.
Tory MP for Blyth Valley, Ian Levy, has his own Facebook page – as does Richard Holden, who is the Tory MP for North West Durham. Richard Holden was also running his own adverts across Facebook and Instagram too. Even with this level of autonomy, the clear key party message of 'Get Brexit Done' was being promoted.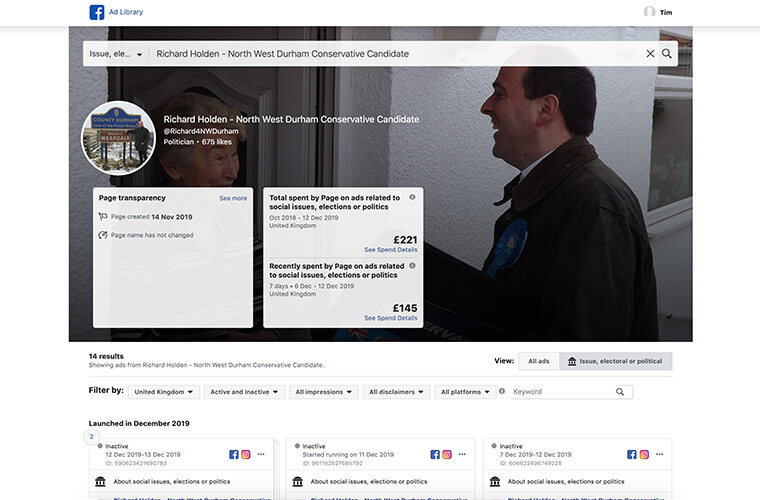 Final thoughts
The power of social media is unquestionable. Twitter even took the step of banning political advertising on its platform ahead of the general election. We can't tell exactly what influence Facebook ads had on the end result, but we know that it would have undoubtedly contributed towards the Conservative win.
The general election result may not have been what you wanted. However, one thing to take away from it is how the Tories used paid adverts, which were cleverly deployed across the country, to their advantage. They have shown that by targeting different areas and knowing your target audience (as well as what they need or want to see) that you can help achieve the results required.
It's not a requirement to put thousands of pounds into your paid advertising across Facebook. However, start small – and you will see results.