Instagram has quickly gained the title of one of the most used social media platforms since launching in 2010. With over one billion active monthly users, 80% of whom follow business pages, it's become a must-have tool for your business. There are new clients out there waiting to be discovered daily, so whatever business you are in – there is a place for you over on Instagram. It's all about the way you make it work.
Apple, ASOS and Marks and Spencer are three brands you wouldn't normally see in the same sentence together. But they all have one massive thing in common – the way they use their Instagram platform successfully. Below is a four-step guide, showing you that even by following the smallest steps – you can achieve the same results as some of the biggest brands on Instagram.
Step One: Active! Active! Active!
Having an active Instagram account is key for ensuring your customers stay interested. In busy day-to-day life it can be a struggle to remember to post at the right time, or even have enough content to post.
Not every single post has to be picture-perfect or about your latest product. Posts that attract users, such as quotes, questions of the day and competitions, will drive as much engagement as one that you've spent six hours trying to get the perfect lighting and angle for.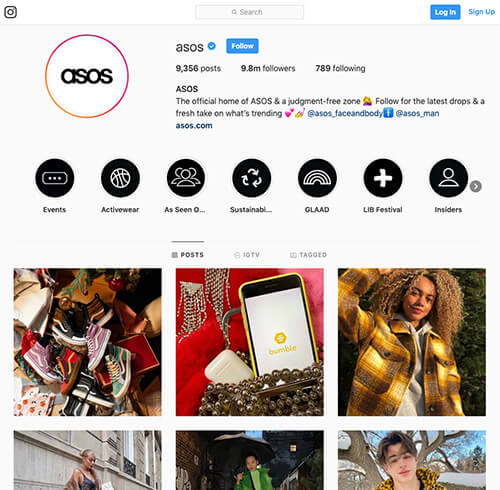 The majority of large accounts post between three to five times weekly, with some even stepping up the mark and posting multiple times daily. By doing so, it allows a wider range of potential customers and followers to see your posts which have been staggered throughout the day. Since the Instagram algorithm update, posts do not always appear in chronological order, therefore getting behind the best time to post is crucial.
As great as it would be to spend a full working day on Instagram to ensure you're posting at the correct time, it isn't practical. A wide range of apps and websites are available to use which allow you to time when your posts are shared. This not only saves time, but it takes the worry away from missing a peak time slot.
Here are some of the top Instagram scheduling sites to use:
Step Two: Resonate with your audience
A large proportion of us follow Instagram accounts as we feel some form of connection with either the person, brand or the products used. Keeping things simple can sometimes do all the talking for your brand, without over-complicating and piling a load of information onto your customers. Apple demonstrates how they not only connect with the customer by allowing the product to speak for itself, but by also keeping it so simple.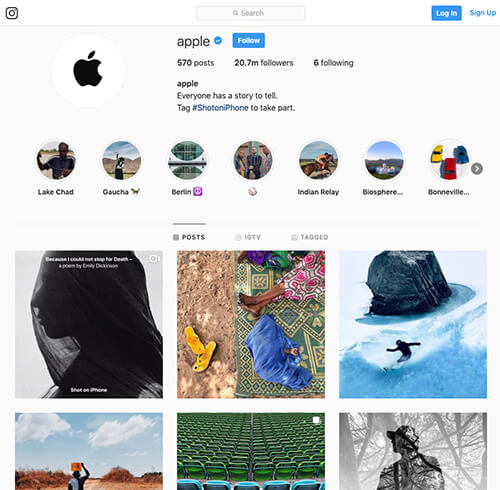 Each post on Apple's Instagram account is taken with one of their products by one of their customers. This strips back the content, keeping it to a bare minimum, to ensure customers are able to see the products for what they are – through a picture. The good old saying 'a picture speaks a thousand words' comes to mind here.
Keep your posts jargon and technical-free, otherwise it might take away from what you are really trying to offer your audience.
Step Three: Staying on trend
Trends are ever-changing across social media – it's almost impossible to keep up! However, there is nothing an avid Instagram addict loves more than an up-to-date, on-trend post they can tag their friends in. Whilst creating a new product to fit in with trends is not always possible, ensuring products that are advertised match up with the current season is always a win for both your brand and the customer.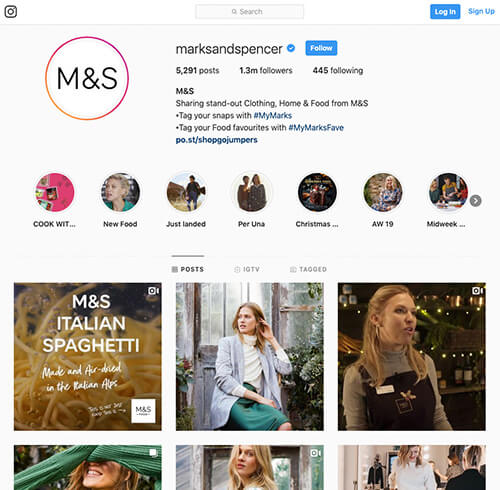 Marks and Spencer keep all of their posts seasonal, showing the range of products they offer to fit in with the latest trends. By adapting a similar manner, customers feel engaged with what your brand has to offer, whilst also learning about new products that may have been previously disregarded.
Step Four: Have fun!
Visual content enables you to showcase your brand in a unique way. By utilising the features provided by Instagram you have the way your brand is seen in your hands. Experimenting with the Instagram features is not only so much fun – but it also changes a basic post into a creative one.
You can switch from posting on your grid to creating stories with music, GIFs, creating filters and adding locations to your post. Stories are available to be viewed for 24 hours with the option of adding key elements to your highlights, a feature which provides small snippets at the top of your profile. Highlights are visually appealing on your profile, by creating covers for each highlight.
A popular recent update from Instagram saw the creation of IGTV, otherwise known as Instagram Television. This feature allows you to record longer videos on your channel, giving you the potential to showcase new products and also the option of Q&As between yourself and your customers. This feature is a key one to get behind because it draws in massive numbers, as customers are able to engage with you on a personal level.
Other top tips:
Switch your account from personal to business. Having a business Instagram account will enable you to keep tabs on engagement and interactions. It also provides you with details such as your main target audience's age and what time of day your posts are most popular. There is no follower limit before switching your account to business, so whether you have one follower or 1,000 – make the change.
Hashtags are your best friend. Utilise these at any given opportunity across your posts. Research the top tags for your account genre, and even have a go at creating your own unique hashtag for your brand.
Be responsive across your platform, even if you just give a comment a simple 'heart'. It will show your customers they are being heard and you acknowledge their feedback and opinions.
Instagram can be the voice of your company. Use it well and showcase your brand in a way you'd dream of your brand to be seen. There are no right or wrong ways to use Instagram, so don't be afraid to try something new.